Kelly Clare & Hilary Nelson
in conversation


︎

Kelly Clare
from 'here and at the same time'
projection, printed georgette hung at variable dimensions, fabric
144" x 54"
Kelly Clare
When I made work for my thesis show here and at the same time, I had to use images as a tool and find ways to make them manifest in space. I had them printed on giant sheer pieces of fabric and made these things that felt inherently flimsy into something more tangible.

I've also been really obsessed with the cut outs—you know, in New York City, when they have those plywood walls around a construction site with that tiny window? The first image I printed out is from the first or second time I went with my partner to New York City, and there were these lemons through the window, and I was just completely obsessed. I still think about seeing those lemons through the window. There's something about the snapshot that provides that type of weird magic, a level of physicality that's possible.
Hilary Nelson
Was your thesis show the first time you started using images?
Kelly
I'd documented past work and then I was making tiny photo collages, but they weren't really going anywhere. In many ways, they felt a little too small. Like if they were in a show, the gimmick was that they were small, and I didn't always like that. This was the first time that I let the images take up space and wasn't like "oh that's just documentation that I put up in the corner of the room over there, don't look…"


Hilary
Totally. I feel like I have a very similar relationship to how I started using imagery. It came out of documentation, out of a frustration with a lot of the work I was making. The work wasn't sustainable in terms of its lifespan, and so the photo became more substantial than the piece itself. At first, I was really frustrated with that—but now by incorporating it more it feels like a more inclusive situation.

Rather than being frustrated that my work wasn't something long lasting or transportable, I started making more temporary work and just photographing it, and then printing those out. And so those printouts started working themselves in. There was a long period of time where it was very awkward—like, it wasn't working.
Kelly
Well, it's hard to get there. When your initial relationship is like "ugh, I wish my work was more transportable" and "ugh, I have document again," it's hard to change that relationship with photography. I totally get the transportable envy.
Hilary Nelson
Off the Lot
2021
digital print, sleds, chalk, plaster, wax, tape, towel, heat shaped plastic
84" x 96" x 48"
Hilary
Something that really struck me about your work from here and at the same time was how I didn't exactly know what the space was. The way you're using the sheer fabric with the images really mimics the experience of the projector. This piece, Off the Lot, is a very recent one. It has some of the first photos I ever printed out and started using with other work.

I had all these pipe frames with plastic stretched over them from another piece and they were about enough to surround my car. I built a box around my car, it was transparent plastic screens, and then waited until nighttime and then turned on the headlights, so that it was this sort of glowing box. And then I took photos of it and have used those over time. So, in some ways, this is an attempt at making my own car? I think it has a similar feeling to your work in here and at the same time—it has all these different perspectives trying to present some kind of view of what it would look like if you're looking into an actual car or if you were driving and looking out. There's not a consistent organization.
Kelly
I always think about the fact that I have to haul everything to the car. I love that you just built something around the car. It's like, 'oh, it's transportable! There's the car!' I also love the sense of utility that we get from the materials but also from the car—which is designed and made around the utility of getting somewhere and going somewhere.

And the car being made of views and windows and blind spots too? There's something about that: blind spots in the piece and blind spots in the car.

Hilary
Oh! I like that idea about blind spots.
Kelly
It feels more like you're trying to pull everything together some sort of partial confusion. From all these different photos and angles and materials, something tries to come together to suggest that this could all roll away like a car. I also kind of love how when I look at Off the Lot from one angle, I sometimes read the back as the front—but of course those two blue splotches are headlights! And you have that fabulous rearview mirror. I love how at the back of the image, you have put this, I don't know, reflection back in?
Hilary
Behind those photos there are actually two other photos—images of the engine.
Kelly
When you work with front facing and back facing—what do the back and front communicate? I like that the back of this sculpture you actually get to see the engine of the thing.

And that green is so good—where is that green color from?

You know how there's diegetic noise in a film? I think a lot about diegetic color—the colors that are just around. I keep seeing this green and I'm like 'what is Hilary picking up off the side of the road that has this color on it!'

Hilary
Why am I drawn to it? Or where...?

If you can see in that top back photograph there's a green kind of chair-thing? It's this drop cloth that I got during one of my first hardware store purchases for art supplies, many, many years ago! It's a biodegradable drop cloth. It's amazing—I've had it for so many years that it's gotten to the point where it's actually biodegrading. If I touch it, it just pshhhhh... So that was the essence of it.

But speaking of those photos you were drawn to, I have a whole collection of green light photos—that sort of porch light green light. I'm very drawn to it.


Kelly Clare
from 'here and at the same time'
2021
screenshot of web installation
Kelly Clare
It reminds me of the kind of floating in space I worked on in this image, also from my thesis show here and at the same time. Recently I've had a lot of my old iPhone photos printed, so I sent my friend Carmen these, and she sent photos back of the photos installed. Then I wanted to find a way to make them live online.
Kelly
Thank you! It was really fun to build. Again, changing my relationship with documentation and photos of my work helped me rethink my relationship with webspace. I realized I could have fun with it, and that this is also how most people are going to see my work.

In your piece Off the Lot, I was thinking about how the photos don't make logical sense in terms of space of the car, and yet make complete visual sense. And about how web space is never about actual spatial sense, it's the non-sense of anything can happen in this weird flexible digital space.


Hilary
I feel like there's a really strong material connection here as well. Whatever's going on with the yellow door—it looks like the inside of one of those foldout tables that you have at school. And there are so many moments that feel like they are meant to be overlooked but are also very eye-catching and require more thought and time and attention to appreciate. I really like that balance.

The things that we do to quickly resolve, or problem solve, can actually draw more attention to the issue. There's lots of celebration of that kind of moment—like with the jugs of water holding down the cover. And I love the side mirror and the table there. The flip of what's up and what's down, what's in and what's out.


Kelly
Images and photos get to do that. And that's something I've really enjoyed as I've worked more with photos. I recognize that I can just flip everything—put the world on its side, literally, all the time.
Hilary
Do you find that you work through spatial ideas with these kinds of pieces? Like where you are working strictly in a digital space, do those spatial ideas get carried out into real life when you're putting up an installation?


Kelly
Oh, interesting. It's funny, when I work on a website, my most desired thing is making everything movable. I chose my website platform mostly because it was so easy to make everything draggable. I wanted everything to be haptic in that way. It's also very computer dependent, I've been learning. Different computers will scroll different ways.

I had an old version of Microsoft Word—2011, I think, RIP—that my computer finally stopped running. I was heartbroken! The way that it scrolled, the little publisher mode, had all become linked to how I was thinking.

I don't think digital space is a void. There are all these different programs that exist that have distinct ways of moving and existing. The programs feel as specific as these images of water jugs to me.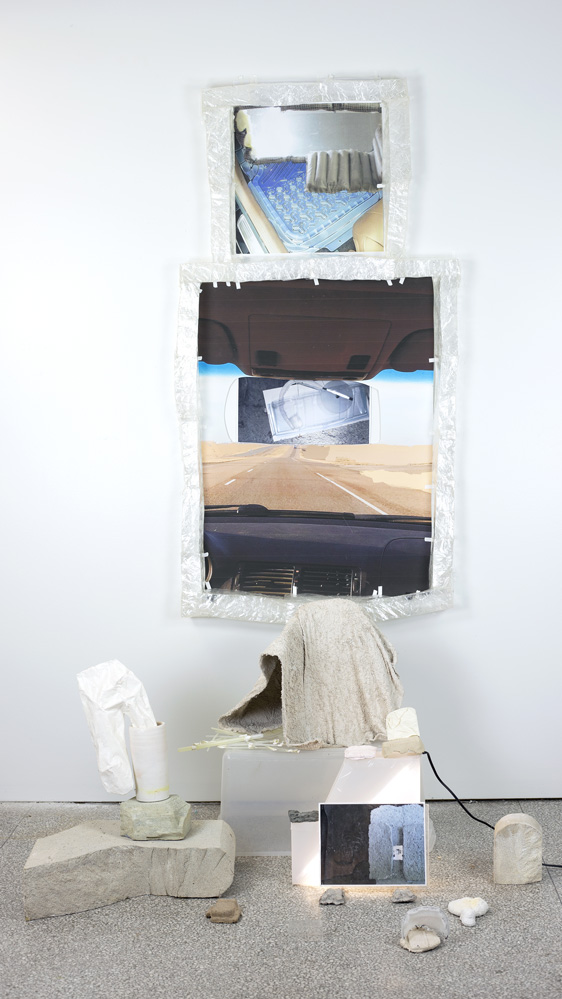 Hilary Nelson

Dashboard Ornaments
2020
digital print, LED, foam, terry cloth, sand clay, paper clay, ceramic
72" x 50" x 36"
Hilary
My work Dashboard Ornaments almost feels like a physical attempt to do what you were doing in the last piece—how you were arranging the squares and the cut outs and the overlapping of imagery. Some of these are digital collages, but that center image has a cut out. My dad was driving, and he was in the rearview mirror—so I cut that out. I was trying to coalesce all these different parts. I'm always challenging how loosely those connections and relationships can be, while still feeling believable that they're fixed in one place or as a larger piece or complete unit.

And I don't think that is always successful! I think it's more successful for me, obviously, as the artist, as someone familiar with the materials that I'm using and how they live and shift and change over the years within my studio. Like I was saying about the drop cloth—having it long enough to know how it will actually biodegrade. These materials have been around for so long and have existed in so many different iterations.

So, in part, it's a personal exercise of how many ways can these things exist in relationship to each other. Like many of us, I'm really curious about how a viewer would respond—are they going to believe that, you know? Are they going to believe that they're meant to be together?
Kelly
I'm noticing as we go through the images, now that you mention your father being in the rearview, I'm like 'we don't really feature many people.' These are things about objects. And then you talked about that reoccurring biodegradable tarp and I'm like, 'oh, the objects are famous people in these."

Kelly
They reoccur, they show up, they do different things, they age, they decay. I also reuse a lot of materials, and yeah, they become a little famous in their own world.
Hilary
Yeah, they're just like us.
Kelly
They're just like us, so relatable! One thing I really admire about your work is your use of color has me so deeply believing that the things belong together. The greige! Which is a color I hate, by the way. You've made me like greige in this piece. And that blue.

Hilary
Computer grey, yeah.

Kelly
Another thing is that you always seem to have a lot of different tools in your back pocket. When one method of working doesn't work, you apply another. When you're unsure if all the pieces will pull together, you're using color to make me totally believe that this is all, of course, a single unit. And I buy it! I feel like photos were a back pocket tool I avoided for a long time, but now it's like, here's something I can pull out and use.
Hilary
Looking at your work, I was surprised to hear it was more of a recent development, and I think it's because you do have such a strong relationship to material and space. Those are the languages that you've been versed in. So, when you throw something else in, like a photo, it just becomes one of those 'things.' It starts to function and operate as a material. It feels very nuanced.

Kelly
Yeah, like a 'photo-thing.'

Kelly Clare
decoymelon
2019
photo collage
~ 4" x 6"

Kelly Clare
Looking at your last work, Dashboard Ornaments, I was thinking about some of the shapes and the cut out and cut through of the photo. This is actually one of those small photo collages that I made of past work that I had installed.

This work, decoymelon, is from a giant installation I did. It was the first time I'd really expanded my work into space. It had been such a big experience that I now had these tiny photos of. So I started making these collages, but I've never quite figured out how to allow them to exist. This one was published in a lit mag at one point and exists digitally and physically. But when they're physically printed, there's no glow of the screen.

Hilary Nelson
Yeah, I know what you mean!
Kelly
It's like, ugh. I want that pink to glow, it has to glow, and it just doesn't glow when you print it out. I've never known what to do with it.
Hilary
I love this piece. And it's not totally clear that it's a smaller photo collage, but I kind of got that idea. It has such a similar feeling in terms of proportion and composition, which is interesting to think about—how you're able to scale up your sense of composition.

That can be challenging, especially because this is coming from a physical space, but then you've made a flat composition out of it. I can see the next iteration of this going into a space and the way that you create these lines and interrupt the planes. It feels incubated in this smaller piece.
Kelly
(laughs) It's an incubator.
Hilary
Yeah, a little incubator.
Kelly
I like that phrase. That is the challenge of scale. And then there's digital scale too, which is a sort of scale-less scale, which I've been thinking a lot about lately.

There are issues of resolution, but really digital scale is as big as the projector or screen that you have. That's the scale. And it can be as small as you need it to be. I feel like I toss things into virtual space and then I pull them out at a particular scale.
Kelly
I've been making these scanned pieces, and it's a particular scale—8.5"x11" pieces of paper, transparencies, photos. But then I had them printed really huge for the show I just did. It's interesting to toss things into the ether and then pull them out.
Hilary
Yeah, for some of the photos I have printed, they're sometimes a really poor-quality image. The place that I get them printed, depending on the size, they'll restrict how big I can make it. So, I'll just kind of force it to be bigger, knowing it's going to be pixelated and 'poor-quality', but I'm ok with that because I want it to be an artifact of what it was. I don't want it to put on airs about what it's not.
Kelly
This is not taking out the fancy camera, this is taking out my phone—yeah.
Hilary
And it does feel like pulling it out—throwing it into the world and it has to be what it is. A frozen moment of something that wasn't really meant to be frozen.
Kelly
And the way that the photo was taken, the context, is part of the photo. I like the pixelation, I like the weird blur, I like whatever my phone decided to do and focus weird. It's part of the artifact, part of the thing.
Hilary
It makes it feel more like a material in itself. When you go back and look at photos, you're stumbling across it and responding to it —as opposed to if it was a high-quality photo.

I take film photos and I've struggled using them, because they're a little too nice. They're almost harder to enter into. It's similar to using trash or discarded stuff because it's easier to engage with because it's already started on its way to something. I can interrupt that. When something is polished it's its own thing, and I have to really convince it to get moving in a different direction.
Kelly
It's low risk to use trash in the economy of materials. I have things that I've had printed on fabric that I want to cut up, but then I remember that I spent money on it in a big way and I don't want to mess it up. There are all these hang ups that happen. When something's trash or a piece of printer paper—that lowering of risk—is very liberatory. Or it is for me. I like using garbage as much as possible.
Hilary Nelson
Glove box
2020
digital print, file box, chalk, canvas
50" x 40" x 16"

Kelly
How big is Glove box?

Hilary
It's like 4 feet high—
Kelly
Wait really? It looks so much smaller!
Hilary
Whoa, that's interesting!

Those boxes were for filling—they had holes in them. The things in the holes are these little carved pieces of chalk. It's a little bigger than it looks.

The immediate connection for me with Glove box and your work decoymelon was that sort of raw canvas material in your collage, and the draping of the objects in my image which were just piles of things from my studio at school.

The image—there's that green again—the image behind is a roll of film that I got developed. I didn't know what it was, and it turns out I was a roll of film that my sister took of a project while she was in art school, when all you did was take film photos and use slides.

Hilary
I developed it, and because it was so old, it has that green color. For me, Glove box feels a little quieter—the way boxes are empty, there's this quieter space. And maybe that also connected to the smaller feeling in decoymelon, because it's more intimate.

Kelly
I think that's also why I thought it was smaller. I'd seen your previous images and there are apartment building levels of bustle. They feel like little ecosystems. Whereas Glove box feels like a solo moment, it's on its own. It feels like this little unit that could be integrated and combined into a system if it wanted to be, but it is also a lovely quiet pause.

Now I want to see it IRL because this would have such scale. I feel like when something's hand sized, it gets very holdable, but this would be more screen-like or something you'd interface with that would be larger. Like a portal.


Hilary
I think also—likely because of the colors and materials—it feels like it could be a bathroom mirror, that kind of scale.

Kelly
Those cubes are also sinks or garbage bins to me now—that's lovely. I also love the draping in this piece. I'm curious about how you think of draping. Because I'll always be working on something, and I'll think 'TOO BUSY', and I'll put fabric over it. Like it's a bird in cage or something that's being too loud. I'm like ok, nighttime.
Hilary
Or you're like, leaving the summer house and you need to cover the furniture—
Kelly
That's a much nicer analogy. How does this draping work for you?


Hilary
I think I've had to move studios so many times and that is always a drag, but also a generative space for me. Moving ends up being working as well—I make things as I'm moving. The images I used in Glove box are from when I was just bagging up things. There were these big clear bags and I loved how everything looked in the bags. I ended up taking a bunch of photos of the actual moving and packing process.

This image in particular feels very classical and it leans toward a type of work that I don't really make, something that is beautiful and serene and slow and quiet. I think this was an attempt at including that within the world of what I do. Which is something I'm interested in, including these things that feel antithetical to my natural tendency. Or a type of work that I don't really feel a strong connection to but recognize its value. Do my version of that. A spin off, or a copy.
Kelly
Sort of like classical plastic. I get that. There's a lot of those types of forms—that drapey, Grecian fabric—
Kelly
Oh ghostly, totally. Haunting. That draping can be found with all sorts of materials. I like those things rubbing up against each other. I mean, you're wrapping things up to move. It's the most stressful and logistically challenging—I don't like moving. But you find these moments of draping and pause, and it results in this. I like the idea of making work while moving—all the stuff from the back corners has finally come out.

Kelly Clare
a window a window
2022
digital scan collage
8.5" x 11"

Kelly
I love the drapiness; I was thinking of that type of motion. I've been making these scanner drawings—when you move something in a scanner while it's working, it has all that great glitch, and it reminded me of the fabric in Dashboard Ornaments.

a window a window is one of the most recent things I've made—it's only a month old. It's a layer from a printout of a video piece I made that has a layer of a drawing, a screen recording of a messy ethernet cables image search, and breezeblock drawings on transparencies. I was really just jamming everything through the scanner.

I've been thinking a lot about—in past conversations we've had—how you said the photos are important to you, or personal to you and no one ever knows that. And that not being a big deal—it's just a part of the work. I've been thinking about not just printing images of my installations, but also aggressively printing photos from my life. Not just ones that have spurred on art, but ones that are like 'this photo is personal.'

So, these photos are from Iowa City. The one on the right is from best apartment I've ever lived in in my life! And the other one is from a neighborhood brick stack that was one of my favorite sights to see. There aren't any people in them, but they're obviously sentimental images for me.
Hilary
I've been thinking about to the conversations we've had too, about how when I'd use found photos it was because I was looking for something in particular. But what would happen if, instead of finding them, I decided to create them?

I find your work really inspiring, in terms of how much is happening and how much you're loading in, jamming in, and layering. It feels like a wash of all that information, but it doesn't feel overwhelming. It feels like I want to stay in this space and sink into it more. And yeah—creating that feeling of drapery with a digital record of spontaneous movement—

Hilary
And the way that you're drawing the breezeblock marks feels so much like an overhead projector.
Kelly
What's wild is when this is blown up really big and printed it looks like spray paint! When I had these printed huge, and everyone was like "is it spray paint?" and I'm like, "it's sharpie on a transparency."

Different scales create different ambiguities. This reminds me of printmaking a lot, which I'm teaching right now. Jamming everything through the scanner is so much like jamming everything through the press bed, which is like jamming everything through the internet.
Hilary
The process of layering is an essential part of printmaking—and each layer has its own time signature to it. Whereas digitally it's all synthesized together.
Kelly
It's like melted plastic melted together—there's no taking apart.
Hilary
With a print, especially if you made it, you could feel the physical layers, stages, literally.
Hilary Nelson
Body Glove
2021
digital print, sleds, chalk, plaster, wax, tape, towel, heat shaped plasti
72"x 84"x 30"
Hilary
I thought that the layering and the linework and the shapes and the overlapping in Body Glove connected with a window a window. The feeling of strata—geological cross sections.

This is a fairly recent piece. Lately, I'll fluctuate between wanting to be more minimal and wanting to let a single material or move take center stage. And then there are times where I will just relent to a more 'anything and everything' approach. It goes back to that conversation about how believable it can be that these things belong together.

I also have an interest in the sound of the thing—being ok with something being rushing and loud versus wanting it to have a quieter feel. And that also connects to density and weight.

I found these two sleds in a dumpster—such a gift.
Kelly
Ugh. Yeah. I mean, dumpster sleds? The dream.
Hilary
Yeah, amazing. It kind of started off as three separate pieces being worked on, but when I found the sleds, that merged everything together. And this center object materials were—well, not a bag—but a piece of plastic that I made into a bag, that I could use to move and pack. Because I ran out of trash bags. So, I stapled this bag, but then it became also an object. It's been around for a very long time and is a different outfit. Or it's like an article that can be paired with lots of different things.

Kelly
Ah, yes, like a nice silk scarf.
Hilary
Exactly, it can accent a lot of different feelings. But yeah, it's hard to know when things belong to one specific piece. I think maybe this is where it stops for this one.

Kelly
I love the dumpster sleds. I feel like there's such a language of 'fast'. Whoever designed the sleds was trying to communicate that this thing could go really fast. I like that that is carried throughout the work—the color has this excitement and energy to it. You have those fantastic pink doohickeys at the bottom of the left sled. The other sled is literally going into a flaming curtain. There is BIG sled drama going on right here. I really appreciate that.

But it's also taking on a tryptic form, you know? It's a one, two, three, and the center panel is different, and the two sides are the two sleds. It also doesn't want to alienate me. It's like, 'I'm still organized, and I have this form that is really legible while also doing a lot of illegible things.' Or things that might surprise and shock and scare you.

This piece really rewards me the more I look. I get taken in by the colors and dynamism, and then I start to look at the images on the sleds and see how you're playing with space. There's a spray bottle, a weird inflatable dude—it looked like a weird cut out, a gun, from a distance. This piece also reminds me of a trailer for an 80s action movie. We have gun shapes and flames and energy.

Hilary
There's definitely a feeling that the sled designs are trying to represent some futuristic space. The way that digital space was represented in 80s and 90s movies—like how they tried to physically represent the inside of the computer...

What you were saying about spending more time is also how I feel about your work a window a window. There's a connection there. There's the experience of taking it all in, but then you can sink it to the different layers and interact with each of them.

Kelly
An immediate impact on the retinas. Like, BOOM.

I love the name Body Glove. Now I think of surfing. You have the initial read of the tryptic, and then you start to read inside that impact, at these little windows that are going to spaces that aren't about sleds or fire or speed. Instead, they're like, architectural or grimy or the inside of a basement. Some of these feel like when you go into a crawlspace, the space that is way dirtier than the rest of your house and you forget exists.


Hilary
Different speeds represented in different sounds. I like what you're saying about reading multiple times. I feel that way about movies. You watch it the first time for the plot, and then you watch it another time to pay attention to the things you're not supposed to be paying attention to. The background and the soundscape. The things you're experiencing initially as a whole unit, but then you're able to be inside of it and push them apart more and see them as their own thing too.

︎
Hilary Nelson
received her MFA from the University of Iowa School of Art and Art History. She had a recent solo exhibition at The Class of 1925 Gallery at The University of Wisconsin (Madison, WI) and has been included in recent group exhibitions at Public Space One (Iowa City, IA), Collar Works (Troy, NY), Underground Flower & Rhizome Parking Garage (online), GHOST (online), and The Every Woman Biennial (Los Angeles, CA).
In 2019 she was a resident at Yaddo and a resident and recipient of an artist grant at The Vermont Studio Center. Also in 2019, Nelson was given access to the collections at The Museum of International Folk Art (Santa Fe, NM) for extended collections research. From 2018-2021 she was Gallery Director and Curator for The Times Club Gallery in Prairie Lights Bookstore (Iowa City, IA). In 2022 Nelson will be an artist in residence with the La Wayaka Current Desert 23° (Atacama Desert, Chile), and in 2023 she will be an artist in residence at Buinho Residency (Messejana, Portugal). She is an Assistant Professor at Maharishi International University.
Kelly Clare
is a multidisciplinary artist and poet based in Western Massachusetts. She recently received her MFA in Sculpture from the University of Iowa, where she explored the muddy confluence of digital, linguistic, and physical space. Her visual and literary work appears and is forthcoming in FENCE, Second Factory, Tagvverk, New Delta Review, Coast|noCoast (and other places). She was a resident at the Vermont Studio Center in 2019 and is an Editor at Ghost Proposal.